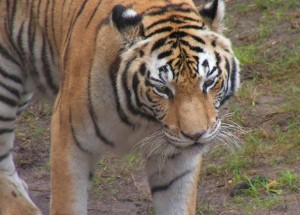 Here you can find webcams that allow you to see various species of Tigers in their natural habitat and in captivity at zoos and sanctuaries around the world.
Tiger Homes
I present you with forty different web cams brought to you by TigerHomes.org. Here you can see White Tigers, Golden Tigers, Bengal Tigers, African Lions, Leopards, Panthers and Lemurs as well!
Many of the cameras have multiple views and some cameras they turn on the night lights until 10 p.m. (Eastern Time). Registration is required (free) to view these live streaming cameras – but well worth it! Watch the Animal Web Cams at TigerHomes.org.
Africam
Africam is a one stop virtual African safari where you can see Tigers from multiple web cams. Some of the cams are still image cams and others have live streaming video. You can also chat with other animal cam viewers in their forums and see some of the best photos from the cams in the highlights section. Visit the Africam Virtual Game Reserve.
Howletts Wild Animal Park
This animal cam comes to you live from Howletts Wild Animal Park in Germany and features a Tiger Cam. All cams have excellent streaming video and can be remotely controlled so you can pan, tilt and zoom. The controls are a little tricky, so you will need to practice a bit before you get the hang of it. So far it seems the Tigers are the only animals on exhibit, but the other animals can be seen soon. Look around in other places and you can spot foxes, birds and other wildlife. Watch the Howletts Wild Animal Park Cam.
Tiger Cams at the National Zoo
Two Sumatran tigers live at the National Zoo, an adult male and an adult female. Most of the time, you'll probably see them lounging around, sleeping and perhaps even swimming.
Soyono is the female tiger and was born at the National Zoo on June 14, 1993. The male tiger is named Rokan and was born at the San Antonio Zoo on September 6, 1990. They are parents to three Sumatran tiger cubs born at the zoo in May 2004.
The cubs now reside at Landry's Downtown Aquarium in Denver, Colorado as part of the Sumatran Tiger Species Survival Plan, a cooperative breeding program among zoos in North America. Watch the Sumatran Tiger Cam.
Kolmarden Zoo Tiger Cams
This Siberian Tiger cam comes to you live from the Kolmarden zoo in Sweden and features an amazing 7 tiger cams for you to watch all with streaming video. One tiger cam has an interesting view of an abandoned bus that the tigers can lounge around or play on. This Siberian Tiger cam is online 24 hours a day, 7 days a week. The time in Sweden is about 6 hours ahead of Eastern Time in the U.S., so keep this in mind if you want to view the tigers in the daylight. Watch the Siberian Tiger Cam in Sweden.
ANIMAL CAMERAS TAGS
tiger cam
live tiger cam
tiger cams