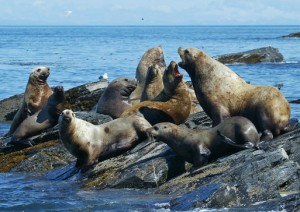 Welcome to our collection of live seal webcams that we've discovered throughout the Internet. Watch various types of seals in zoos and in their natural habitat in locations around the world. Includes elephant seals, gray seals, harp, Antarctic fur, leopard, sea lions and more.
Race Rocks Seal Cam
See whales, seals, seagulls and other ocean life at Race Rocks in Canada. There are six animal web cams to choose from, one being a remote control 360 degree web cam so you can zoom in and pan to look for animals. One camera focuses in on a seagull nest. Watch the live animal web cams at Race Rocks.
Ocean Science Centre Harp Seal Webcams
The Ocean Sciences Centre is home to five Harp Seal cams, two of which are underwater. There are six seals living there: Babette, Deane, Jamie, Lenny, Oscar and Tyler. Watch the Harp Seal cams 1, 2 and 3. Watch the underwater Harp Seal cams.
Rotterdam Zoo Seal Cams
Here's an excellent streaming video cam for you to watch seals and other creatures in the water at the Rotterdam Zoo in Holland. This is also a remote control cam so you can pan, tilt and zoom. I was able to zoom in close enough to snap the pictures above. I give this animal cam two thumbs up. If you are in the United States, this cam will only be visible late at night. Watch the Rotterdam Seal Cam
Alaska Sealife Center Webcams
The Alaska Sealife Center presents this Stellar Sea Lion cam that streams live from Chiswell Island in the Gulf of Alaska. To give everyone a chance to watch the sea lions, viewing time is limited to 5 minutes per session. This cam is active from 9:00 a.m. to 6:00 p.m. Alaska Standard Time. Watch the Stellar Sea Lion Cam.
Seal Cam at the Toledo Zoo
At the Toledo Zoo in Ohio, in addition to their Hippo cam and Elephant cam, they also have a Seal Cam where you can watch them above the water and swimming underwater as well. This cam has streaming video and is viewable directly from your browser. Watch the Toledo Zoo Seal Cams.
Año Nuevo State Park Elephant Seals
The Elephant Seals are back and better than before courtesy of National Geographic. The National Geographic Elephant Seal Cam comes to you from the Ano Nuevo State Reserve on the coast of California and features high quality streaming video with sound. See and hear seagulls, waves and many elephant seals. Watch the Elephant Seal Cam.
Hellabrunn Zoo Seal Cam
This animal cam comes to you live from the Hellabrunn Zoo in Germany and has three different animals that you can watch: Seals, Elephants and Chimpanzees. To change cams and view different animals, select the links on the lower left of the page. You can also change the animal cam refresh rate directly under the cam. This cam is about 6 hours ahead of eastern time in the US, so if the cam is dark it is probably night. Watch the Hellabrunn Zoo Cam.
Indianapolis Zoo Walrus Cam
This Sea Lion and Walrus cam comes to you live from the Indianapolis Zoo in Indiana and gives you a streaming view of the Sea Lion exhibit at the zoo. On this cam you can see four California Sea Lions, three Harbor Seals and one Grey Seal that lives at the zoo. Watch the Sea Lion Cam at the Indianapolis Zoo.
NIE Seal Sanctuary Webcam
This seal cam comes to you fromthe NIE Seal Sanctuary in Ireland and features a live view of the grey seals living at the sanctuary. The sanctuary started in 1989 and has grown to be the largest sanctuary in Northern Ireland. Watch the seals swimming in the pool, playing or lying on the rocks by the water. This seal cam has streaming video. Watch the Seal Cam in Ireland
ANIMAL CAMERAS TAGS
seal cam
seal webcam
seal webcams