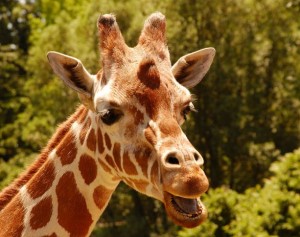 This page is the latest up to date list of live Giraffe webcams located at various zoos around the world.
Some of theses giraffe cams are also located in the wild in Africa!
Watch these beautiful animals in streaming video and regular still image cameras. Some of them may also let you watch daily feedings if they are at a zoo.
Giraffe Cams at the Prague Zoo
If you are visiting Animal Cameras and you live somewhere around North or South America, or where it is now dark, these giraffes are awake and starting a new day at the Prague Zoo. There are at least five giraffes that I can see, one of them a baby. Watch the live giraffe web cam. Recently one of the giraffes had a baby, so there is also a link to a couple of streaming webcams at the zoo.
Africam
is a one stop virtual African safari where you can see a large variety of wildlife including Elephants, Zebras, Giraffes, Rhinos, Tigers, Sharks, Penguins, Seals and more from multiple web cams. Some of the cams are still image cams and others have live streaming video. You can also chat with other animal cam viewers in their forums and see some of the best photos from the cams in the highlights section. Visit the Africam Virtual Game Reserve
The Tobe Zoological Park Giraffe Webcams
This park in Japan has a nice animal cam where you can see Giraffes, Zebras, Ostrich and other animals live. This animal cam is active from 9:00 a.m. to 5:00 p.m. local time in Japan, which is from about 8:00 p.m. to 5:00 p.m. Eastern Time in the U.S. Watch the Tobe Zoological Park Animal Cam.
Cheyenne Mountain Zoo Giraffe Cam
This Giraffe Cam comes to you live from the Cheyenne Mountain Zoo in Colorado Springs, Colorado. The zoo currently has 19 reticulated giraffes in this herd. Watch the giraffes walking around and getting fed by visitors to the zoo. This giraffe cam updates once a minute. To see the latest image, refresh your browser. Watch the Giraffe Cam at the Cheyenne Mountain Zoo.
Amersfort Zoo
This animal cam comes to you from the Amersfort Zoo in Holland and gives you a live view of many different animals living at the zoo. This includes Zebras, Tigers, Giraffes and more! This webcam has live streaming video and you can watch animals during daylight hours at the zoo. Watch the Amersfort Zoo webcam.
Rogers Williams Park Giraffe Cam
This is an excellent streaming video giraffe cam located at Roger Williams Park in Providence, RI. Watch 3 Masai giraffes in this indoor area. If you don't see them, they are probably playing outside. Watch the Roger Williams Park Giraffe Webcam.
Houston Zoo Giraffe Platform Cam
Another awesome giraffe webcam awaits you. Watch Masai giraffes on two different webcams. One in their barn and another outside. Both have streaming video. Watch the Houston Zoo Giraffe cams.
Folly Farm Giraffe Cam
This webcam comes to you from the zoo at Folly Farm in Tenby, UK. Streaming video. Watch the Folly Farm Giraffe Webcam.
Giraffe Webcam at the Marwell Zoo
Watch giraffes that live at the Marwell Zoo in the UK. This cam image updates every 5 minutes and gives a view inside the Giraffe barn. Watch the Marwell Zoo Giraffes.
ANIMAL CAMERAS TAGS
giraffe cam
baby giraffe cam
live giraffe cam