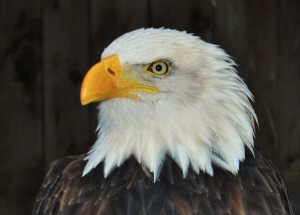 If you love Bald Eagles, you will love this collection of web cams that show you various bald eagle nests from many different natural outdoor habitats and zoos. Typically you can watch nesting bald eagles and perhaps even get to watch eggs hatch in streaming video. Here are some of the most popular ones in no particular order:
National Wildlife Federation Bald Eagle Cams
This live bald eagle web cam is brought to you by the National Wildlife Federation. This bald eagle pair has successfully raised chicks in this nest for ten years, where they have raised 16-17 chicks.
The nest is close to the Atlantic Ocean in Maine, so the eagles eat food from nearby ocean and freshwater environments. Generally bald eagles are scavengers which eat from already dead animals or fish, so this pair would get a lot of food from the ocean shoreline (the intertidal zone).
According to the Bald Eaglecam Blog, there are currently two eaglets in the nest.
This is a great live web cam in color with sound. You can even hear the audio at night! Watch The National Wildlife Federation Bald Eagle Camera
Institute for Wildlife Studies Eagle Cams
Bald Eagle nesting season is upon us again and the Institute for Wildlife Studies brings you the Channel Islands Eagle Cams from California. There are three cams to watch – one has streaming video with audio from the Santa Cruz Island nest cam. Two more have streaming video – one from the Two Harbors Nest and another from the West End Nest. Watch the Channel Island Bald Eagle Cams
First Light Power Bald Eagle Cam
This cam is currently offline, but they have made efforts to restore it. Keep it bookmarked and check back and perhaps it will get back online. FLP Eagle Cam.
Turtle Bay Exploration Park Webcam
It's been awhile since we've seen a good Bald Eagle webcam, but it looks like we've ran into one today. This one is called Caltrans Eagle Cam and it lets you watch a bald eagle nest live with streaming video in California. This bald eagle cam is visible during daylight hours in California. It may time out after 20 minutes. If so, please reload to continue watching. Watch the Caltrans Bald Eagle Webcam.