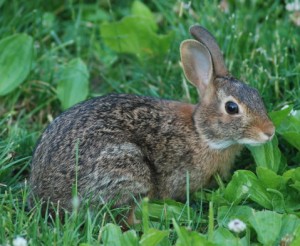 Watch live rabbit webcams located in homes and zoos in various locations around the globe. Many have streaming video and a companion blog with updated news and photos of the bunnies.
The Brooklyn Bunny Cam comes to you live from Brooklyn of course and features Roebling, a Dwarf Hotot rabbit. Roebling was rescued by a veterinarian and is now safe and happy in his 1000 square foot bachelor bunny pad. This bunny cam refreshes every 3 seconds. Watch the Brooklyn Bunny Cam.
The Binky Bunny Rabbit Cam features two streaming rabbit cams where you can watch up to three adorable bunnies that have been rescued and are happily living in this cozy home. The rabbits include Jack (all white rabbit), Rucy (greyish rabbit) and Bailey (white and brown rabbit). Check their web site for detailed rabbit cam schedule. Currently you will need to watch this web cam with Internet Explorer as it doesn't work in Firefox yet. Soon they will be adding a remote control bunny cam! Watch the Binky Bunny Rabbit Cam.
Foster Bunnies Rabbit Cam – This bunny cam comes to you live from Ontario, Canada and features several rabbits living in a foster home. The rabbits come to this foster home from Rabit Rescue in Canada. They have two rabbit cams up and both have streaming video. For more information on these rabbits and the foster home, visit FosterBunnies.com. Watch the FosterBunnies Rabbit Cam.
Mad Bunny's Carrot Patch – Two live rabbit webcams located at a residence in Pullman, Washington. Watch the Mad Bunny Rabbit Cam.
Nagerbande Bunny Webcam in Germany – This rabbit cam comes to you from Germany and uses Webcam XP/7 software. Watch rabbits eating, sleeping and playing in their cage. Also read the blog and see photos, too! Watch the Nagerbande Bunny Cam.
ANIMAL CAMERAS TAGS
rabbit webcam
rabbit cam
rabbit cams