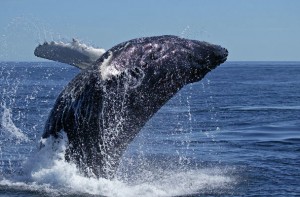 Go whale watching from the comfort of your home or office by taking a look at these live whale watching webcams. See humpback whales, blue whales, killer whales, beluga whales and more. These cams may be located in the natural habitat of the whale, aquariums or from whale watching excursion boats.
The Whalesong Project lets you listen to Humpback Whales live from Hawaii. They might be adding a webcam in the future, so keep this bookmarked in check back often. The Whalesong Project is now in their seventh season, broadcasting live whale songs since 2001. Listen to Humpback Whales at the Whalesong Project
The Shamu Killer Whale webcam is so peaceful, you'll wish you could jump in for a swim. Or…maybe not? The name "Shamu" is actually a stage name shared by many adult killer whales at SeaWorld. The Shamu Cam is located at SeaWorld in San Diego, California and is live from 9:30 am to 5:30 pm (Pacific Time) daily. At midnight the footage is replayed so you can see the previous day's activities.
No special player is needed for this web camera – you can view it directly in your browser. Click the link below and when you get to the Shamu web site, click the link at the bottom that says "Watch The Shamu Cam". Watch Shamu Killer Whale Camera.
Hawaii Humpback Live Whale Webcam – This cam comes to you from Hawaii and features a live view from various beaches in Hawaii so you can hopefully spot whales on this cam. The cam is courtesy of the Jupiter Research Foundation which does whale research in Hawaii. They will soon be broadcasting live audio of the whale songs made by the humpback whales. This humpback whale cam switches view automatically and updates every second. Watch the Humpback Whale Cam in Hawaii.
Greenpeace Whale Watching Boat Cam – This is kind of a long shot, but whales have been sighted before on a web cam that is located on the Greenpeace boat Esperanza which is currently out to sea. Keep an eye on this cam and who knows.. maybe you'll be able to see humpback whales, dolphins and more! This cam updates every 30 seconds. Watch the Whale Cam on the Esperanza.
Beluga Live Whale Cam – Watch Beluga Whales on this live camera located at the Vancouver Aquarium in British Columbia. There are three beluga whales you can see are named Aurora, Qila and Kavna. Watch the Beluga Whale Webcam at Vancouver Aquarium.
ANIMAL CAMERAS TAGS
whale cam
whale webcam
shamu cam