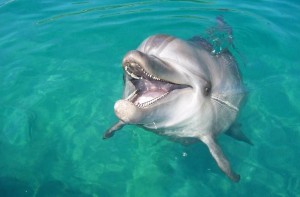 Here's a collection of live webcams where you can watch dolphins from your computer at aquariums and in their natural habitat at locations around the globe.
Commerson Dolphin Cam
This cam located at the Marinepia Matsushima Aquarium in Japan, and although it isn't the best animal cam in the world, it's pretty need to feature a unique creature such as this dolphin. I think they need to get closer and have a faster video stream and this could be a really good cam. Watch the Commerson Dolphin Cam
Minnesota Zoo Dolphin Cam
I'm happy to say I've found another of the most prized of all animal cams… a dolphin cam at the Minnesota Zoo. It wasn't working earlier in the year, and now is back online. This one has live streaming video and shows the dolphins underwater from approximately 8:30 a.m. to 8:30 p.m. Central Time. Watch the Dolphin Cam
Clearwater Marine Aquarium Dolphins
This dolphin cam comes to you from the Clearwater Marine Aquarium in Florida and gives you a view of Winter, a rescued bottle nosed dolphin. This webcam can be remotely controlled so you can pan, tilt and zoom. Watch Winter swim around, beg for treats, jump through hoops and perform other tricks. There are now 4 webcams to choose from to watch "Winter" and "Hope". Watch the Dolphin Webcam at Clearwater Marine Aquarium.
ANIMAL CAMERAS TAGS
dolphin cam
Live Dolphin Cam
dolphin webcam