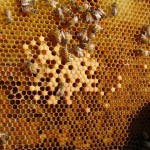 When it comes to looking after nature, webcams help us to see much of what our eyes cannot capture. They allow us to be where we would never be present or welcome. And it allows us to focus on the behaviours and lifestyles of the various animals from around the world. However, one creature that is both essential to life and for the environment is the humble bee. And with live bee webcams, we can see closer than ever what these tremendous little being get up to daily!
Live bee webcams can be found worldwide, and some of the places you should check out include:
George Greek Orchards
Be sure to check out this beautiful live webcam of bees over in Australia. This beautiful little webcam shot captures the bees going around their daily duties, taking part in anything that they need to if they wish to keep the hive safe from any potential invaders.
They will move around the hive, and if you spot lots of the bees on the screen at once then it probably means that we can expect rain to arrive in the near future. Check out the George Greek Orchards webcam.
USDA Bee Cameras
One of the more interesting bee cameras to sit and watch, if you are willing, is the USDA cameras. The USDA decided to set up this amazing little honeybee camera so that you can see these delightful beings going about their daily duties within the hive.
You should watch them go about their little protective duties, trying to make the apiary that they live within as safe as it can be. The operators of the cameras try to keep them up and running all the time, so be sure to check them out if you are on the lookout for a very enjoyable little viewing experience of USDA Bee Cameras.
Sysonby Knoll Hotel
This is an interesting little private hotel in the United Kingdom, and has been run by the same family for over fifty years. The house is also home to some interesting locations for you to check out, but there is a little bee collective here that has been used to produce honey for many years.
You can watch this awesome little Sysonby Knoll Hotel webcam and see the Melton Mowbray bee population living their best lives. A bee camera worth installing and watching for your own understanding.
Buchloe Bee Hives
The bees of Germany are very impressive indeed, and the bees that are stored in Buchloe, Germany, are even more impressive. You can watch the live webcam of the Buchloe Bee Hives and you can see for yourself what these delightful little creatures get up to on a daily basis.
The establishment was first put together in 2013 and this little bee colony helps you to see the life of a bee as they go about enjoying life from the comfort of their own giant log. A wonderful viewing experience as these bees are some of the hardest-working buzzers we have ever seen!