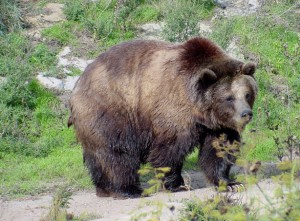 This is our collection of live grizzly bear webcams that we've found while scouring the Internet. Most of these cams are located in various zoos around the world, but occasionally we may post one that is actually in the wild.
Watch Grizzly Bears live on webcams with streaming video, sound and more.
Woodland Park Zoo Live Grizzly Bear Webcam
This live streaming grizzly bear camera comes from the Woodland Park Zoo in Seattle, WA. There are two twelve year old male grizzly bears. The two bears are brothers and you can see them from 9:30 am to 4:00 pm (Pacific Time). They have a pretty large living area, so if you don't see them right away, be patient and they should come into view.
Grouse Mountain Grizzly Bear Webcam
The Grizzly Bear Cam comes to you from Grouse Mountain in North Vancouver at the Refuge for Endangered Wildlife. This is a protected natural sanctuary where two grizzly bears named Grinder and Coola can live in a safe, natural environment. You can watch one camera for free, or buy a premium package and watch five different animal cams. All of the grizzly bear cams have streaming video. Watch the Grizzly Bear Cam at Grouse Mountain.
National Georgraphic Grizzly Bear Cam
The National Geographic Grizzly Bear Cam is currently down, but it is very likely they will go back online at any moment. Get ready for an awesome animal cam featuring Grizzly Bears feeding on salmon at McNeil River Falls, Alaska. This awesome camera features live streaming video and sound and the view changes periodically to show the best grizzly bear action. Keep this site bookmarked and stay tuned when they go back online. Watch the National Geographic Crittercam and WildCam.
ANIMAL CAMERAS TAGS
kodiak bear live cam
grizzly bear cam
grizzly bear webcam