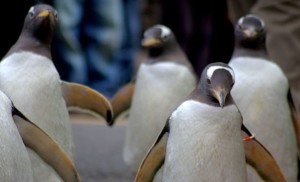 Here's a nice collection of webcams where you can watch penguins at zoos, aquariums and in their natural arctic environments at locations around the globe. Many have streaming video and schedules where you can watch zookeepers feed them every day.
California Academy of Sciences Penguin Cam
Watch penguins live from the California Academy of Sciences and gives you a live view of the penguins at this exhibit. Here you can watch African Penguins on a wide view cam, an underwater cam and on the Biologist Cam. You can also read up to date news about the penguins and view pictures, too! Online 24 hours a day. Watch the Penguin cam at California Academy of Sciences.
Monterey Bay Aquarium Splash Zone Penguin Cam
This live color web camera is brought to you by the Monterey Bay Aquarium. In addition to the regular residents, 19 of the penguins in this colony are under their care from the Audubon Aquarium of the Americas in New Orleans.
This video features live audio during the two daily feedings held at 10:30 a.m. and 3:00 p.m. (Pacific Time). Webcam is online from 7 a.m. to 5 p.m PST. Watch the Splash Zone Penguin Cam.
Sunshine International Aquarium Penguin Cam
Live streaming penguin cam is located at the Sunshine International Aquarium in Japan. Watch penguins sitting on the rocks, getting fed and swimming around. Watch the Sunshine International Aquarium Penguin Webcam.
New England Aquarium Penguin Webcam
This cam is located at the New England Aquarium in Boston, MA and features African Penguins that you can watch swimming around underwater! This penguin cam has live streaming video and has remote control so you can pan, tilt and zoom. Please note if other people are using the penguin cam you will have to wait until your turn to be able to take control. Watch the African Penguin Cam.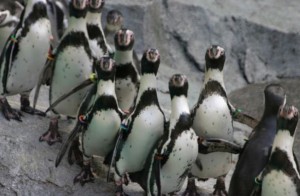 Antarctic Receiving Station Penguins
There are two penguin cams to choose from where you can watch Gentoo penguins. Each penguin cam has a wide and telephoto view. These cams are all still images that are updated every 15 minutes. Considering they went through the trouble to set this up as far away as Antarctica, I don't think we can complain, can we? Watch the Antarctic Penguin Cams.
Jenkinson's Aquarium Penguin Webcam
This penguin cam comes to you live from Jenkinson's Aquarium in Point Pleasant Beach, New Jersey. Watch penguins sitting around or swimming in their pool. Be sure to check out the daily live penguin feedings at 11 a.m. and 3:30 p.m. (Eastern Time). Watch the Penguin Cam at Jenkinson's Aquarium.
Indianapolis Zoo Penguin Cam
This penguin cam comes to you live from the Indianapolis Zoo in Indianapolis, Indiana and features live streaming video of the penguin exhibit at the zoo. See rockhopper, gentoo and king penguins in the new Oceans exhibit. This cam also has remote control so you can move the camera around. You can use digital zoom to get a closer look as well. Watch the Penguin Cam at the Indianapolis Zoo
Tennessee Aquarium Penguins
This cam comes to you from the Tennessee Aquarium in Chattanooga. Take a look at the "Penguins Rock" exhibit and watch macaroni and gentoo penguins hanging out on the rocks. Watch the Penguin Cam in Tennessee.
Bookmark this page now as we will add more penguin webcams as we find them and as new ones are added.
ANIMAL CAMERAS TAGS
Live Penguin Webcam in Antarctica
penguin cam antarctica
live animal cams penguins