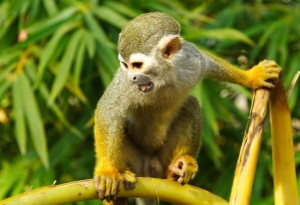 Who doesn't love monkeys? Here you can find an assortment of live monkey webcams at zoos and natural habitats around the globe. Watch many different species eat, sleep, play and whatever else they may do.
Pet Kingdom Monkey Cam
The Pet Kingdom pet shop cam has four web cams where you can see hamsters, gerbils, birds, puppies and even monkeys! These animal cams have streaming video and sound and are located in Florida, USA. Watch the Pet Kingdom Webcam.
National Zoo Golden Lion Tamarin Cam
The Golden Lion Tamarin Cam at the National Zoo features a golden lion tamarin family – mother, father and four offspring. Currently there are only about 1500 of these monkeys that live in the wild. Laranja is the mother, Eduardo is the father and Gisela and Samba are two females that were born earlier in the year and are helping carry the newborn monkeys that were born in November. Watch the Golden Lion Tamarin Cam
Snow Monkey Cam in Japan
This live animal cam features Snow Monkeys in Jigokudani, Japan. See the snow monkeys relaxing and bathing in the natural hot spring pool. There are more than one hundred of these Japanese Macaques that live near this hot spring – called Jigokudani Monkey Park. The Snow Monkey cam is a still cam that updates approximately every five minutes. Watch the Snow Monkey Cam
Remote Control Macaque Monkey Cam
This is an excellent web camera with plenty of Japanese Macaque monkeys to watch. Once again, you are in control as this camera allows you to zoom in, pan and tilt. This camera is based somewhere in Japan at the Monkey Centre.
You can view this camera directly in your web browser. You may have to wait a few minutes to control this camera. To control this camera click the icon in the lower right that says "Start Control". Enjoy! Watch the Live Japanese Macaque monkey cam (link at bottom of page – warning the site is very resource intensive, requires Java and may crash your browser).
Here's another Japanese Macaque Monkey cam located at Blank Park Zoo in Iowa.
White Tufted Ear Marmoset Cam
This monkey cam comes to you live from a nature center in the Czech Republic and features a view of White Tufted Ear Marmosets.  This cam has live streaming video and is viewable both day and night.  At night the cam broadcasts in infrared and is in black and white.  Watch the White Tufted Ear Marmoset Cam.
ANIMAL CAMERAS TAGS
monkey cam
live monkey cam
monkey webcam