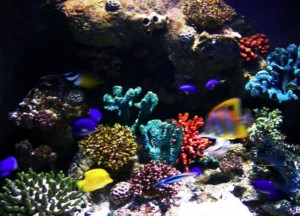 Here you can watch fresh and saltwater fish located at various aquariums around the world.  This will include hobby aquariums located at homes, offices and pet shops for the most part.  If you're looking for huge sea creatures such as sharks, dolphins, etc. we'll have a separate category called Aquarium Exhibits coming soon.
Jason's Fishcam
This aquarium cam comes to you live from Jason's Fishcam. This live aquarium web cam includes a Betta, Long Finned Black Skirt Tetra, Zebra Danio, Dwarf Puffer and Neon Tetras just to name a few. There are two aquarium web cams to choose from. Both cameras are jpeg streaming cams and require Java to view the streaming video. Watch Jason's Fishcam.
Live Piranha Webcam
I've been waiting for the Piranha cam to go back up for some time now, and it looks like now it's live. This live animal cam is brought to you by Piranha Pictures and features a handful of live piranhas in a crystal clear aquarium. Keep watching and perhaps there will be a live feeding. Watch the Piranha Cam.
Fishcam in Germany
Here is a streaming saltwater aquarium cam from Germany for you to enjoy watching beautiful fish swimming around the coral. Watch the Saltwater Aquarium Cam.
Goldfish Bowl Webcam
Watch goldfish swimming around in a classic goldfish bowl. Archived images, guestbook and more! Watch the Fishycam.
Fishcams.net Aquarium
Awesome and active aquarium cam site has 4 different views to choose from and is interactive so you can turn lights on and off, make bubbles go and of course… watch some fish. Watch the Fishcams.net Aquarium Cams.