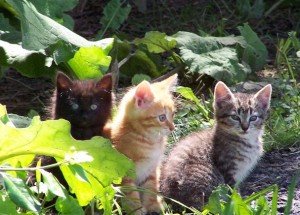 Do you love cats? A big fan of LOLcats and Caturday? Or purrhaps kittens are more your style?
Well, sit back and relax and watch cats and kittens on this selection of hand picked webcams at animal shelters, homes and other locations in the world.
Cathouse Cat Cam
This cat webcam is open 24 hours a day, 7 days a week for your cat viewing desires. There are over thirty cats to watch! Some of the web cams include a couch cam, patio cam and office cam. There is a remote control backyard cam as well.
When you get to the site, click on the "Live Video" button to see the jpeg streaming camera. Otherwise, you will have to wait 30 seconds for the camera to refresh. Watch The Cathouse Cat Cam.
Cute Cats Cam
This animal cam comes to you from Holland and features a live view of a brand new litter of kittens as well as adult cats at this cattery. This litter of kittens was born on Oct. 4, 2007. This cat and kitten cam is usually only from 9:00 a.m. to 11:00 p.m. local time in Amsterdam. The cam updates every few seconds. Watch the Cat & Kitten Cam in Holland.
Hemingway Cat Webcam in Key West
This cat webcam comes to you from Key West, Florida and lets you watch some of the 60 cats roaming around the famous home of Ernest Hemingway. They are known as Hemingway cats and are famous for having six toes. You can watch them live with streaming video. Watch the Hemingway cat cam in Florida.
Siamese Cat Rescue Center
This cat webcam comes to you from the Siamese Cat Rescue Center in Virginia and gives you a live view of Siamese cats currently living at the shelter. Watch the cats sleeping, playing or hanging around in their cages on one of five different cat cams. There's even an outdoor cam. Watch them taking naps on their cat furniture, too. The Siamese cats are fed at 5 p.m. and given medicine from 9 – 10 pm daily. Watch the Siamese cat webcams.
ANIMAL CAMERAS TAGS
kitten webcam
kitten webcams
live cat camera